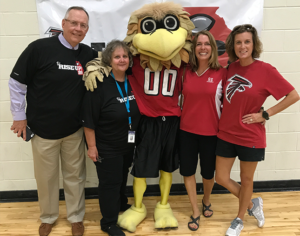 The Grunduski Group was proud to support the Atlanta Falcons in their efforts to engage schools in their new flag football initiative and outreach program called the RiseUp! 159 program.
The Atlanta Falcons Youth Foundation unveiled the program the last week in August, spotlighting flag football equipment donations to elementary and middle schools in every one of the state's 159 counties.
Through the new initiative, Rise Up! 159, the Falcons donated NFL Flag Football kits for use in P.E. classes at 80 elementary schools and 79 middle schools across the state. The kits include 50 flag belts and Falcons NFL Flag reversible jerseys, footballs, water bottles, T-shirts and other supplies.
During 2017-18, P.E. teachers at the 159 schools will use NFL Flag Football curricula to increase the time children spend in physical activity. The initiative will reach more than 30,00 boys and girls in Georgia schools.
For more information on the new program, including a map with information about the 159 school partners as well as future funding opportunities, please visit www.RiseUp159.org .