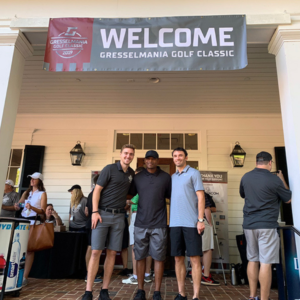 The Grunduski Group was proud to support pro soccer player, Julian Gressel and his wife, Casey, as they hosted their inaugural Gresselmania Golf Classic fundraiser on Monday, September 3rd at TPC Sugarloaf in Duluth. Thanks to the support of gracious sponsors, donors and friends, more than $90,000 was raised for Soccer in the Streets to build a field at a new Soccer Station in Atlanta to give Atlanta inner city youth access (and transportation) to play soccer.
The Golf Classic featured a day on the links golfing with sports and entertainment celebrities. Many of Julian's teammates and friends rallied to join him to make it a fun day in a stunning setting at the TPC Sugarloaf. 92.9 The Game Sports Radio was on hand for a special LIVE tournament remote to catch all the fun and excitement, along with interviews with Julian and his teammates.
Thanks to tournament sponsors, participants were treated to fun contests including a Hole in One contest sponsored by Mercedes-Benz. Great food partners offered an array of delicious food and beverages along the course from Beautiful Briny Sea, Babalu's Tapas And Tacos, Three Taverns Brewery, Wild Heaven Beer, and Landshark. Golfers and guests enjoyed a VIP Post Golf party in the clubhouse featuring unique LIVE and Silent auction experiences and sports memorabilia, including a day of golf with Julian at TPC Sugarloaf, and more.
A special thanks to all of the tournament sponsors including, Envistacom, PGA Tour Superstore, Mercedes Benz, Piedmont Healthcare, 92.9 the Game, McDonald's, CAHABA Wealth Management, Frazier and Deeter, Andre de Winter/ Compass, 360 Team, Bennett Thrasher, Conway Wealth Group, Wild Haven Craft Beer, Colliers International, Landshark Margaritaville, Turner Studios, Darren Eales and Richard Mendelsohn, SP Financial Group, Atlanta United, Adidas, Babalu Tapas and Tacos, Beautiful Briney Sea, Bayside FC, Barnes and Thornburg LLP, Haufe, Keller Williams Abbie Shepherd, and Ortho Atlanta.
Celebrities and special guests at the tournament included Gressel's professional soccer teammates Brek Shea, Jeff Larentowicz, Kevin Kratz, Alec Kann, Leandro González Pirez, Michael Parkhurst, and Brendan Moore, as well as Brian Finneran, former Atlanta Falcon and 680 the Fan Sports Radio Host, Jason Webster, former Atlanta Falcon, Zach Klein, WSBTV Sports Anchor, Steve Craig, 97.1 the River, and Carl Dukes and Mike Bell – afternoon hosts on 92.9 the Game Sports Radio.
Soccer in the Streets has a vision that all children will have the opportunity to succeed. Soccer in the Streets pursues leveling the playing field for all, affording access to the sport regardless of race, gender, religion, or socio-economic status. They strive to integrate our communities, intertwining efforts from corporations, education systems, government, non-profits, and community leaders to better the lives of youth through soccer.
"The first Gresselmania Golf Classic was exactly how I imagined it to be. A fun filled day on the golf course with a lot of smiles on people's faces, some good (friendly) competition on the course, and lots of interactions between Atlanta United Players and sponsors/fans," said Gressel. It makes me proud that just a simple idea of mine turned into something that will now benefit so many peoples' lives. I can't thank Terri and her team enough for making this all possible and doing such a great job with running the event. I'm honestly just simply proud of what we were able to do and couldn't have imagined it to go any better. I am excited for the future how much we might be able to grow it. I believe that this was the perfect start for an annual event that people will look forward to every year!" –Julian Gressel, Atlanta United, Major League Soccer