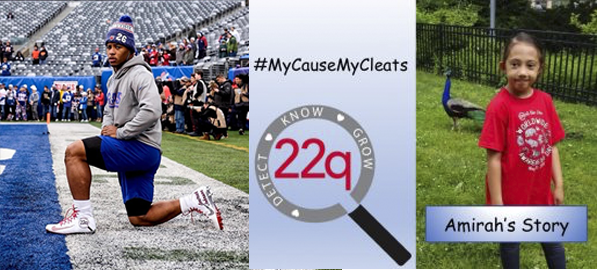 SAQUON BARKLEY – Championing the cause for our client, the International 22q11.2 Foundation!
Saquon Barkley made his mark as a rookie in the NFL this year, shattering many NFL rookie running back records, including 3rd NFL Rookie ever to break 2,000+ yards in his first season, only 3rd player in the last 28 years to have 9 – 40+ yard plays in his Rookie season (3rd only to Chris Johnson and Barry Sanders), broke the NY Giants' Rookie Rushing Record, and won both the NFL Rookie of the Year for 2018, and the Rookie Offensive Player of the Year for 2018.
Although his work on the field was extraordinary; his interest in work off of the field left an indelible and heartfelt impression on those fans that have watched and supported him over his young football career.
Saquon's love for his young niece, Amirah, inspired him to bring awareness to a little-known, yet commonly-diagnosed condition as we know it, 22q11.2 deletion.
Saquon unveiled his first campaign to create awareness around 22q11.2 deletion/duplication, by sporting the International 22q11.2 Foundation logo on his cleats during the NFL's #MyCleatsMyCause in December. He has since done several interviews about why he is bringing awareness to 22q11.2 –and, of course, we are proud to support our clients, the International 22q Foundation, in their partnership with Saquon.   Saquon has drawn the 22q11.2 community together to celebrate the recognition of the condition and stand UNITED in cheering his success on and off the field each Sunday — the International 22q Foundation is grateful for all of the awareness brought to the forefront in 2018, and we all look forward to working together in 2019!
In case you've missed it, here is a quick recap:
Read the Article about the unveiling of Saquon's "MyCauseMyCleats" International 22q Foundation shoes
View the Good Morning America feature

See the Giants #MyCauseMyCleats Program
Hear Saquon's quest to learn more about 22q