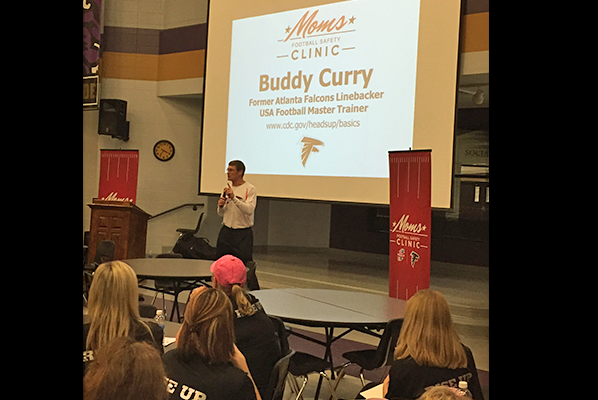 Bainbridge, GA – Over 80 local football Moms participated in the Atlanta Falcons Moms Clinic in Bainbridge GA. The Atlanta Falcons kicked off its eight city tour to support Moms in their quest to learn more about the sport their children are playing and ways to help keep them healthy and safe. The Moms were treated to a quick dinner, cool Falcons swag, and participated in a presentation by special guest speakers including former Atlanta Falcons Linebacker Buddy Curry (1980-87), Heisman Trophy Winner and FSU Great Charlie Ward, and Brian Parker from the Taylor Hooton Foundation. Once they had an opportunity to ask their questions and learn more about topics such as equipment fitting, concussion awareness and proper tackling techniques — they headed out to the gridiron to run on-field drills led by NFL Alumni.
The Falcons have hosted 12 clinics to date; with more than 1,500 moms participating in clinics all over the state of Georgia. The first Atlanta Falcons Moms clinic was held in Alpharetta in 2014.
The Atlanta will host eight Moms Football Safety Clinics this spring across Georgia and the southeast including events in the following cities: Savannah (GA), Flowery Branch (GA), Tifton (GA), Auburn (AL), Chattanooga (TN), Birmingham (AL), and Hilton Head (SC); and Grunduski Group is proud to be a marketing partner in conjunction with Kids & Pros. For more details at http://atlantafalcons.com/momsclinics.