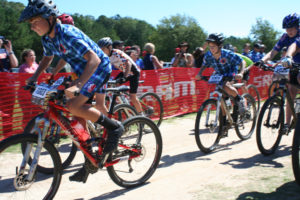 The Georgia High School Cycling League continues to make history, completing an amazing second season of races. Racers gathered at the University of North Georgia on Saturday, Oct. 31, 2015 to prepare for the final Race Day – The Georgia Peach State Championships! A thick blanket of clouds and a refreshingly chilly atmosphere greeted them as they set up team tents and warmed up for the races ahead. Thrilled to cheer on the racers; family, friends, riders, and even staff showed their Halloween spirit dressed as anything from witches to flying squirrels. When it was time to gather at the starting line, racers wheeled up to Hotdog Kenny who enthusiastically hyped up the crowd and started countdowns. The course at University of North Georgia was no doubt the fastest and smoothest of the season with riders completing 4.5 mile laps in just under twenty minutes. This trail was composed of mostly flat terrain with tight turns and roots that made for fun steps to ride down throughout the trail. Most racers said that this would be the easiest course in terms of obstacles and that outcomes truly relied on speed and endurance, though the long grass portion at the start posed a challenge to many. Athens Area MTB Team coach Rusty said, "The grass is good, it gives a chance to spread out and get a good pace. It is important to spread out the field for races on such a fast course." Once racers entered the trail it was tight and technical with long stretches of flat and scattered tight corners.
High School Boys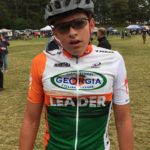 Unlike the first two races, the high school boys were first to get on the trails in a competitive spirit. They zoomed through the course making laps, the fastest lap being finished in just under 19 minutes and 14 seconds by varsity racer, Gabriel Mendez. Alex Kammerdiever (North Cobb Christian) said his biggest obstacle was, "the grass. It latches onto your tire and creates a lot of friction and makes
now–good to change fimo primers stay.
you go slower. You just have to push harder." Going into the race his strategy was, "not to get out of breath on the grass part because that is where all the passing is done."
Middle School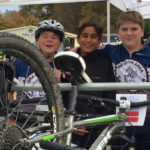 Next out on the course Saturday morning were the fearless middle school racers, ready to speed their way through the finish. Micheal Drewry (Allatoona Creek) said the course has, "little elevation, but there are some tricky roots", he also said you, "gotta get a good start on the flats cause the beginning is flat, ball your energy through there." Even without the chance of a pre-ride, Eli Muse (Allatoona Creek) strategized saying, "you're not gonna have to shift as much, you just have to pedal a little harder."
High School Girls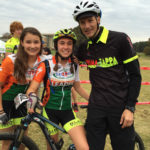 Once all the middle school racers had crossed the finish line, High School girls made their way to the start ready to take on their competitors. Hannah Van Musschenbroek (Prima Tappa) who regularly practices on the trail said her strategy was to, "beat everyone at the start." North Cobb Christian rider Hannah Hicks commented you have to, "take advantage of the flats." She also announced that she was very motivated to finish first especially since this was her last chance of the season.
Costume Contest and Cook Off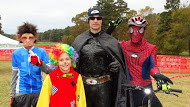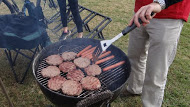 As the race was held on October 31st, racers, friends, family and staff came dressed in Halloween spirit. Running around the field were monkeys and clowns, and riding their bikes were Spiderman and Batman. League Race Director, Kenny Griffin, came in as an enthusiastic hotdog, leading races and pumping up the crowd as a fellow staff member glided around the field as a flying squirrel. All the while tasty smells were floating into the air from sizzling grills. Saturday's menu included turkey bacon sliders, chicken and vegetable skewers with potato salad and coleslaw, and a winning dish of bacon wrapped brat with apple relish. Cookoff Contest Winners 1. Milledgeville / Old Capital Racing Composite – bacon wrapped brat with apple relish 2. Grayson composite – turkey and bacon sliders 3. Habersham – chicken and vegetable skewers with potato salad and coleslaw.
Series Standings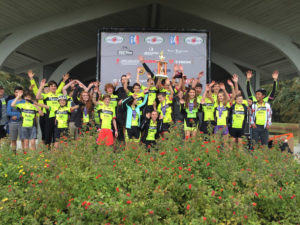 As the racers finished the last race of the 2015 season, they were eager to see not only the race results but also their series standings as well as those of their teams. Racers had to attend and compete on tough courses and against strong competitors to earn points for their series standings and have one last chance to stand on the podium. Points were collected by attending/finishing races and placing. Team points were collected by the top five places of the teams' racers, one of which must be racing in the girl's category. The Hall County Prima Tappa Team took the 2015 Peach State Team Championship. Gabriel Mendez, (Independent Rider) took the 2015 Overall Individual Varsity Boys Series Championship and Molly Hayes (Hall County Prima Tappa Team) was the Overall Individual Varsity Girls Series Champion. Click Here to see all the 2015 Race results.
Thank You!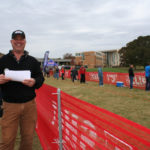 Georgia High School Cycling League's second season has come to an amazing finale and could not have gotten this far without the help of every last volunteer who sacrificed their time and effort to make these races possible. The league is a volunteer and charity run organization and every last bit of help, if it is taking down stakes or being a course marshal, is greatly appreciated. Thank you to all the racers and coaches for the friendly competition. Thank you family and friends for the support. A great thanks to Dan Brooks for taking the time and effort to make such an amazing youth cycling opportunity possible!