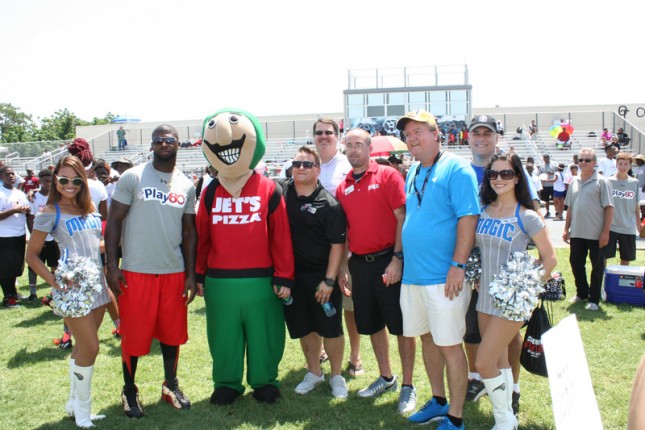 Atlanta Falcons' Devin Hester launched his Family Foundation in Orlando in July to help formally solidify the work he is committed to doing in the community. The Grunduski Group was proud to orchestrate his Foundation Launch, from start to finish, to introduce Devin and his family to his new hometown. Devin was joined by his Falcons Teammates and Other NFL Friends and members of the community for a full weekend of events and activities that benefitted the Foundation including:
DEVIN HESTER FOUNDATION WEEKEND EVENT
The groove at Universal CityWalk
Universal Orlando® Resort
A Foundation Launch Party: The weekend began with the Devin Hester Foundation Private Launch Party in partnership with Boys & Girls Clubs of Central Florida on Friday, July 10th at Universal CityWalk, Orlando. Attendees at the dinner had time to mix and mingle with Devin and his Atlanta Falcons teammates and otherNFL players and friends from the sports industry. Proceeds from the event benefitted the Devin Hester Foundation and Boys & Girls Clubs of Central Florida.
FREE FOOTBALL CLINIC
Devin Hester Foundation Youth Football Clinic
Saturday, July 11, 2015
Olympia High School
9:00AM – 1:00PM
A Free Youth Football clinic: This clinic, Hester's first in the Orlando area, was held at Olympia High School. Youth ages 6 – 15 from Boys & Girls Clubs of Central Florida, and other youth organizations, were invited to train with Atlanta Falcon, Devin Hester, and several of his Falcon teammates and other NFL friends. Close to 500 kids attended this inaugural clinic!
Click HERE for more info on the clinic.
The Devin Hester Foundation would like to thank the following sponsors for their support and participation at this year's launch event and clinic: USA Football, Jets Pizza Orlando, Sports Authority, NFL Play60, NFL Alumni of Central Florida, Florida Sporting News, Peyton Entertainment, MVP Wealth Management, Boys & Girls Clubs of Central Florida, Universal Orlando, Celebrity Sweat , Orlando Magic, BurgerFi, Treasured Moments Video Productions, Audi South Orlando, and Olympia H.S. / Orange County Public Schools.
2:30 PM – 3:30 PM
FOUNDATION EVENT / Meet Devin Hester at Sports Authority
WINTER GARDEN VILLAGE
Meet and Greet with Devin: Devin Hester went to meet fans at our Foundation Partner store Sports Authority in Winter Garden – and signed autographs for an hour. A portion of proceeds sold on Sat and Sun in that store, benefitted the Foundation.
3:30pm – 7:30 PM
Meet Devin Hester and Friends
Burger Fi -Windermere, FL
Hang with Devin and Friends: Devin Hester stopped by the BurgerFi on Saturday to meet customers. A portion of proceeds sold on Sat, also benefitted the Foundation.
Although Devin is headed back to Atlanta for Training Camp, the Foundation will be working on other projects this year. Please check out the new Foundation website: http://devinhesterfoundation.org .
Atlanta Falcons WR, Devin Hester, created the Devin Hester Foundation in 2015 to partner with community organizations to create positive environments, where youth can develop educationally, socially, and physically, and are empowered to become productive citizens in their communities. For more information about the Foundation, go to www.devinhesterfoundation.org