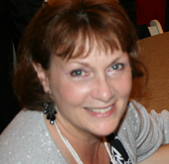 Jill Beckett is a member of the Grunduski Group and the principal of Beckett Group, Inc., an advertising and design company established in 1985. Jill Beckett has more than 25 years of graphic design experience in corporate communications and advertising including clients in sports, investment and finance, manufacturing, and the agricultural industry. The Group created national, regional and local advertising, trade show/event marketing, annual reports and collaterals. Currently Jill is expanding her expertise to include web development, emarketing and social media.
Over the past two decades, experience with national and international clients include Rinnai America Corporation, Agrifabrics, AGCO Corporation, Turner Broadcasting Systems, Apollo Solutions Group, Atlanta Braves and Braves Merchandising, Council for Quality Growth/Quality Growth Institute, Dempster Family Foundation, Jim Mora Count on Me Family Foundation. Beckett Group previous clients included Atlanta Gas Light, Georgia Trend, Weeks Corporation/Duke Realty and community banking.
Beckett Group work in nonprofit began with UNICEF Atlanta and their awards program "Child Survival Awards" (1992-1999) honoring advocates for children including Marian Wright Edelman, former President Jimmy Carter, Ambassador Andrew Young, Hugh Downs and many local groups including the Atlanta Community Food Bank. UNICEF Atlanta sponsored fundraising events during the 1996 Olympics in Atlanta. Other community work included CityCares (Points of Light) and Atlanta Alliance. Early in 2000, Beckett Group had the opportunity to work with Terri Hickman, the Executive Director of the Atlanta Thrashers and later with the Jim Mora Count on Me Family Foundation.
Currently Beckett Group is a member of Council for Quality Growth.
Jill graduated from the Art Institute/Fort Lauderdale, lives in Atlanta and has a son, Matthew.