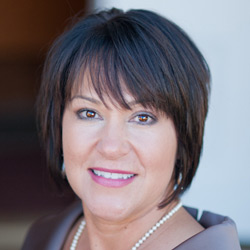 Gina has spent the last 25 years developing numerous business relationships throughout the United States. She has established herself as a proven business woman with the gift of creativity as well as the skills necessary to implement and manage projects from concept to completion. Gina is passionate about her work, and has built a wealth of knowledge in the fields of business development, fundraising strategies, team building, customer service, non-profit education, corporate giving, board and volunteer development, corporate sponsorship securement, business strategies, event design, implementation and oversight; as well as employee recruitment and development, marketing, and public relations strategies.
Gina is an innovative leader and an expert team builder. Through her work with the Hudson Family Foundation (Atlanta Braves, Tim Hudson), McNeal Family Foundation (McNeal Transit Group), Getting2Tri Foundation, Breast Friends, Keith Brooking Children's Foundation (Denver Bronco, Keith Brooking) and through her work and affiliations with; Kevin Carter (NFL), Brian Griese (NFL), Brian Finneran (NFL), Cartier, Sam's Club, Coca-Cola, Heritage Cadillac, Georgia Transplant Foundation, Boys and Girls Clubs, NFL-Pass, Punt, and Kick, Sports Philanthropy Conference – panel presenter, she has proven her value.
Her experience includes: business development, management, and ownership, business model design and implementation, and years of successful experience in developing and nurturing relationships at the highest corporate levels. Gina was host of a television program for 7 years in the Atlanta market. She also has years of public speaking experience, public relations, event planning, fundraising and marketing experience. Effectively and consistently able to produce desired goal oriented results from concept to completion, Gina brings over 10 years' experience in working with professional athletes, family foundations, celebrity charity initiatives, and non-profit operations. Some of the areas Gina has extended support to her clients include; board development, program development, grant writing, evaluation and systems to measure outcomes. Her goal to help clients attain best practices across the spectrum is something that she is very passionate about. She also brings exceptional and unique fundraising strategies to the table, as well as, an extensive background in event planning.
Gina currently serves as executive director of the Institute for Family-Owned Business of Maine. She serves in an advisory capacity with the Grunduski Group and is one of its co-founders.
PROFESSIONAL AFFILIATIONS
• Coweta Samaritan Clinic – Founding Board Member
• Hudson Family Foundation – Founding Board Member
• McNeal Family Foundation – Founding Board Member
• Keith Brooking Children's Foundation – Founding Board Member
• Volunteer with American Cancer Society and Relay for Life
• National Football League (NFL)
• Volunteer of United Way annual giving campaign
• Volunteer with YMCA
• Volunteer with Boys and Girls Clubs
• Board Member Cambridge House of Newnan
• Board Member Coweta County Convention and Visitors Bureau
• DFACS – Advisory Committee
• Member of National Association of Geriatric Care Managers
• Member of Georgia Gerontology Association
• Member of Rosalyn Carter's Task Force for Aging Services
• Vice President of Kiwanis of Wesley Woods/Newnan
• 2003 Graduate of Leadership Coweta
• Member of Lions Club
• Volunteer for the Greater Atlanta Alzheimer's Association
• Co-chair of the Alzheimer's Memory Walk 2000,2001,2002,2003
• Promoter of American Cancer Society – Relay for Life (Guest Emcee at event)
• Speaker at Sports Philanthropy Conference in Washington, DC in 2007
Skill Set Snapshot
Business builder, passionate leader, strategic thinker, implementer, entrepreneur, visionary, leader of non-profits and for profit organizations, foundation design architect for professional sports philanthropists, family charities ,and other notable individuals; guru to philanthropists, teacher, mentor, resourceful, skilled public speaker, motivator, trainer of non-profit leaders/directors, television program host, vision identifier, passion revealer, motivator, guide, non-profit management expert, business owner and manager, developer of programs, donor base developer, boards of directors and volunteer bases; expert fund raiser, corporate giving strategist, collaborator, seasoned event planner, grant writer. Extensive experience in "branding" best practices, public relations, wide net marketing, gifted builder of relationships.